There is a gigantic green butt plug on public display in the middle of Paris.
The 24-foot inflatable contraption has been standing in the historic Place Vendome, one of the city's most treasured squares and has been hit by the Green Butt Plug Controversy.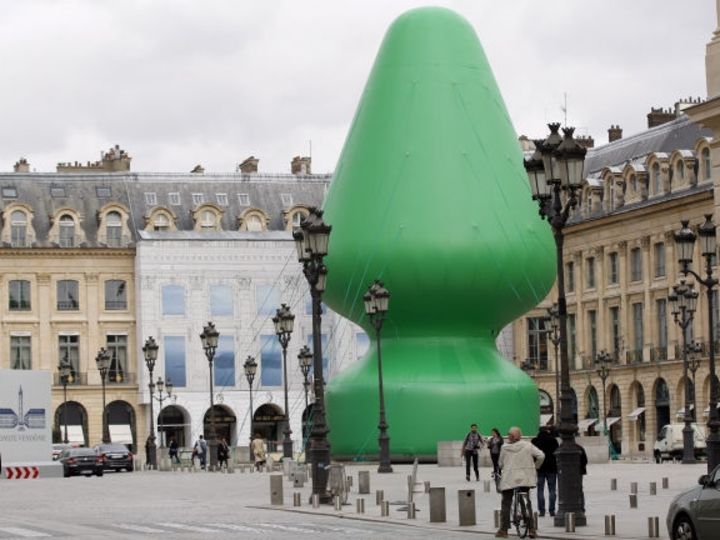 Radical American artist Paul McCarthy recently installed an extremely large inflatable green object – part tree, part butt plug. It is definitely an odd juxtaposition to see it next to a column commemorating Napoleon!
Paul McCarthy is famous for works such as "Inflatable Pile of Shit" and various disturbing takes on Disney characters. But his giant Butt Plug did not last all that long. Two days into the installation and vandals decided to cut the wires that held the sculpture in place – so it has now been removed.
But for two glorious days two things happened – tight-arsed passers-by complained about the display, and everyone else is took selfies. McCarthy told Le Monde that its butt plug shape was deliberate, and a "joke"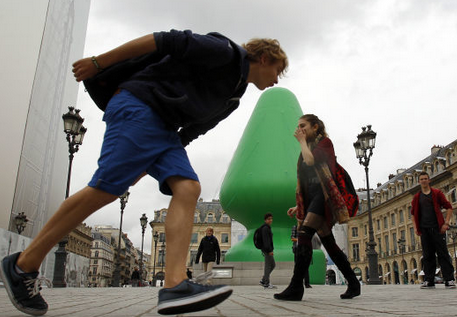 The strange world of Art – you just have to love it.
The origins of the Butt Plug
The first butt plug, called a 'Rectal Dilator' was invented by Frank E Young in 1892. It is he who basically adapted the standard dido by adding a flange at the blunt end which would stop the object from disappearing altogether into the darkness of the inner person.
Frank E. Young was a man on a mission. He used the idea that his butt plug could help in curing ailments such as piles to basically get around the commercial laws that would have seen his pleasure toy banned across America. Indeed a ban did eventually come into force in 1938 under the terms of 'false advertising'.
Franks rather over the top the top and suggestive instruction probably didn't help in this respect.