There's no denying it – gentlemen of discernment and taste love very expensive watches. So be prepared to spend the equivalent of a mortgage and then some as Crown Escorts takes you on a trip into the world of watches, desire and avarice with our reviews on 9 little time keepers we think are keepers.
Big spenders can skip to the end.
Christopher Ward C11 Titanium Extreme 1000 Chronometer Limited Edition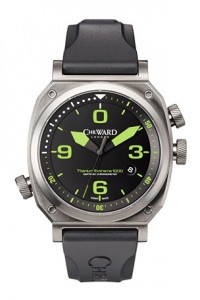 Swiss-made but designed in Britain, Christopher Ward is master of the highest-quality timepieces at affordable (relatively) pricing. This new limited-edition offering is water-resistant up to 1000m – not that we know anyone who has been a kilometre below the surface of the ocean.
This little ticker definitely has a bit of the Bear Grylls about it, and with it's fluorescent jazz hands you should be OK when you are out nightclubbing in Melbourne or Marbella.
AUS$2,200
£1,150
christopherward.co.uk
Tudor Heritage Black Bay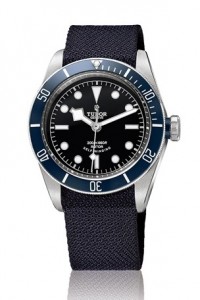 The  recently reborn Tudor line – the little brother offshoot of Rolex – is fabulous. Crown Escorts favourite in the range is the  beautiful, navy-faced Black Bay.
Wear it with the casual canvas strap when on your Sunseeker yacht. It will radiate cool, casual, nautical and knowing in one delicious cocktail of wristy style.
AUS$4,000
£2,120.
tudorwatch.com
Breitling Transocean Chronograph Edition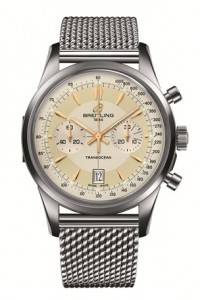 This limited-edition iteration of the Transocean revisits the heyday of the complicated practical wrist watch. It already looks like a collectors item handed down to you by Grandpa. It's handsome two-tone dial design and 'hunter' case back make this a must have for old blues players or spys.
Can also be with calf leather or crocodile strap.
AUS$13,500
£7,060.
breitling.com
Cartier Tank MC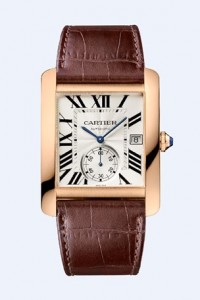 The house of Cartier has moved away from its reliance on bought-in movements recently and  for its Tank model now has its very own in-house 1904MC calibre. We love it.
Cartier Tank watches are legendary for their distinctive shape and never seem to go out of fashion or loose secondary market value.
AUS$28,000
£14,900.
cartier.com
Audemars Piguet Royal Oak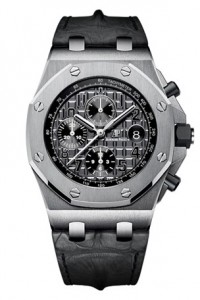 If you are looking for the top of the range sports watch, look no further than The Royal Oak.  It is immediately recognisable and desirable and this new model in steel with a grey "méga tapisserie" dial and alligator strap once again really hits the spot.
Slick, cool, perfection.
If I was Michael Clarke, I'd be wearing this watch and pitching for the advertising contract.
AUS$36,000
£19,000.
audemarspiguet.com
Rolex Oyster Perpetual GMT-Master II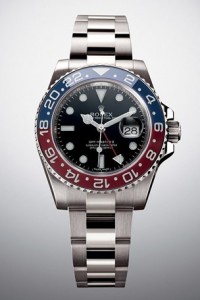 2014 saw Rolex introduce the Oyster Perpetual GMT-Master II, featuring a half-red, half-blue ceramic bezel. You don't often see a red bezel as it is an extremely difficult colour to obtain when crafting ceramic. It is definitely worth it though if you are looking for the perfect corporate bribe for an American business partner as to us it screams USA,USA,USA.
Wear it on your next trip to the White House.
$48,000
£25,600.
rolex.com
Patek Philippe Gentlemen's Nautilus Chronograph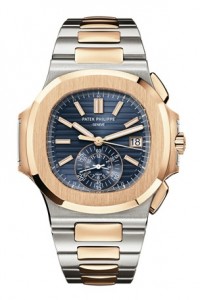 This Patek is a dual-metal beaut. It's 'style' with a certain 1970's cool about it. Detail and precision and Patek's mythical movements make this one of the most brilliant of watches of our time.
New money and old flock to this watch and why wouldn't they? You are only looking after it for the next generation remember? Quality is quality and this is time in perfection and timelessness.
AUS$87,000
£45,120.
patek.com
Bulgari Magsonic Sonnerie Tourbillon watch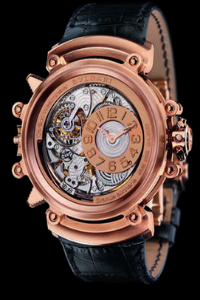 This masterpiece of horology is an ultra-complicated timepiece that combines a tourbillon-style regulation system with an array of chiming functions.
The movement contains over 900 hand-finished parts and the case is partially produced from the special "magsonic" alloy meant to enhance the music sounds.
A million odd dollars of sweet, sweet joy.
AUS$1,180,000
$620,000
bulgari.com
Franck Muller Aeternitas Mega 4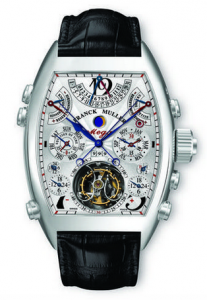 At the time of its production the Aeternitas Mega 4 watch by Franck Muller with its 36+ distinct complications was the most complex timepiece in the world. The incredibly complicated movement contains almost 1,500 individual parts. The dial is peppered with hands and dials to indicate all the information and at a very reasonable $4,600,000. Crown Escorts think it is the steal of the century. Don't leave home without this king of very expensive watches.
$4,600,000
$2,400,000
franckmuller.com